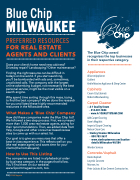 Blue Chip
MILWAUKEE
PREFERRED RESOURCES
FOR REAL ESTATE AGENTS AND CLIENTS
Does your client's home need new cabinets? Driveway repair? Landscaping? Other maintenance?
Finding the right resource can be difficult in today's online world. If you start searching,
you'll be bombarded with ads and, sometimes, unsolicited calls. The company with the largest online advertising budget, not necessarily the best personal service, might be the most visible on a search engine.
Why spend time sorting through this maze, trying to find the best company? We've done the research for you and listed these highly recommended resources in the Milwaukee area.
What Makes a 'Blue Chip' Company
How did these companies make the Blue Chip list? We followed a two-step process: First, we surveyed more than 1,000 area real estate agents, asking for their recommendations. Then, we added data from Yelp, Google and other consumer-based review sites to come up with our select list.
Our goal is to give you resources that offer a best-in-class experience. This reflects well on you (the real estate agent) and saves time for your clients (the homebuyers).
How to Use This Listing
The companies are listed in alphabetical order by business category in the pages that follow. You'll find them on our website, www.5pointmagazine.com, too.
15 | 5 POINT Magazine
The Blue Chip award recognizes the top businesses in their respective category.
Appliances
Alliance Appliance
Colder's
Kettle Moraine Appliance & Sleep Center
Cabinets
Cream City Cabinets Roberts Woodworking
Carpet Cleaner
» A-1 Quality Steam
∙ 414-481-1884
∙ www.A-1QUALITYSTEAM.COM
AAA Carpet Cleaning Dave's Magikist
Imperial Carpet Cleaning Nelson Clean Care
» Stanley Steemer Milwaukee
∙ 800-783-3637
∙ www.stanleysteemer.com/location-
details/Milwaukee-WI/584
Wonder Services
Concrete/Asphalt
Doctor Asphalt
Lutynski Concrete
Munson, Inc
Peter LaLicata & Son Cement Contractor Inc.